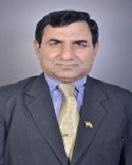 Mr. S. S. Rathi Whole Time Director & Plant Head, is a dynamic leader and a distinct personality in JSPL Group. He is a Mechanical Engineer by profession having a vast and diversified experience of 32 years, out of which he has spent more than 28 years with Jindal group starting from Hisar, Raigarh and Angul.
Read More...
Mr. Pankaj Gautam Mr. Pankaj Gautam is a steel industry expert with over 41 years of varied experience, Mr. Pankaj Gautam is currently the Executive Director - Projects & Operations, of the world's largest coal-based sponge iron manufacturing facility, at JSPL Raigarh. Under his strategic guidance and leadership, the Raigarh facility has successfully accomplished various up-gradations and modifications; such as SMS revamp, BF modernization, Plate mill upgradation, modification projects of Rolling mills, etc. He is a seasoned steel veteran with multi-fold experiences and an in-depth knowledge of global steel making processes and a deep appreciation of various nuances of an integrated steel plant. Mr Pankaj Gautam holds a BE (Electricals) degree from NIT Raipur and holds a PG Diploma in Business Management. He started his career with Steel Authority of India Ltd (SAIL), Bhilai in 1974 and over the years rose to become the first CEO of the facility, in the year 2011. He has also been on the Board of Visa Steel Ltd, JP Cement Ltd and the J.V. of SAIL & MOIL.

Mr. Rajendra Prasad Agrawal Mr.Rajendra Prasad Agrawal is a Chartered Accountant by profession having extensive industry experience and is currently working with Jindal Steel and Power limited as VP Finance.